Grow Your Business with Remote Online Notarization (RON)
Great business is rooted in human connection.
Impress your customers, control your process, and offer everyone a seat at the digital closing table with an industry-backed digital platform.
Human-centered digital closings start here.
Benefits for Your Title and Settlement Business
The next chapter of your business, made possible by RON
Close Deals From Anywhere
Home, office, or beach chair. Get the title & settlement tools and support you need to grow your footprint without the travel expenses.
Be In Control Of Your Business
Centralize the table closing crowd and include the notaries of your choice. Transaction communications, documentation, and processes all live in one secure location.
Exceed Customer Expectations
Feed your love for customer service by offering digital options to customers looking for convenient, smooth closings.
Invest In People, Not Paper
Strengthen relationships, boost morale, automate busywork, and avoid bottlenecks, like last-minute quality control (QC) and power of attorney (POA) requests.
[eBook] How to Perform RON Closings Like a Boss
RON closings are here, but how do you get your team on board quickly?
This free eBook explains the benefits of RON for title and settlement businesses, implementation steps, and RON provider must-haves. It's everything you need to start closing digital transactions.
Remote Online Notarization
MISMOⓇ certified solution for easy remote notarization.
Eligibility Engine
Identify the RON, RIN, or eRecording eligibility of every transaction.
Implementation & Onboarding Support
Check-ins, coaching, and team training before go-live.
eSign
Electronically signing documents is as easy as a click.
eRecording
Ensure the safe, compliant delivery of official documents.

Dedicated Customer Success Manager
We manage the entire process, report key metrics, and ensure continued success.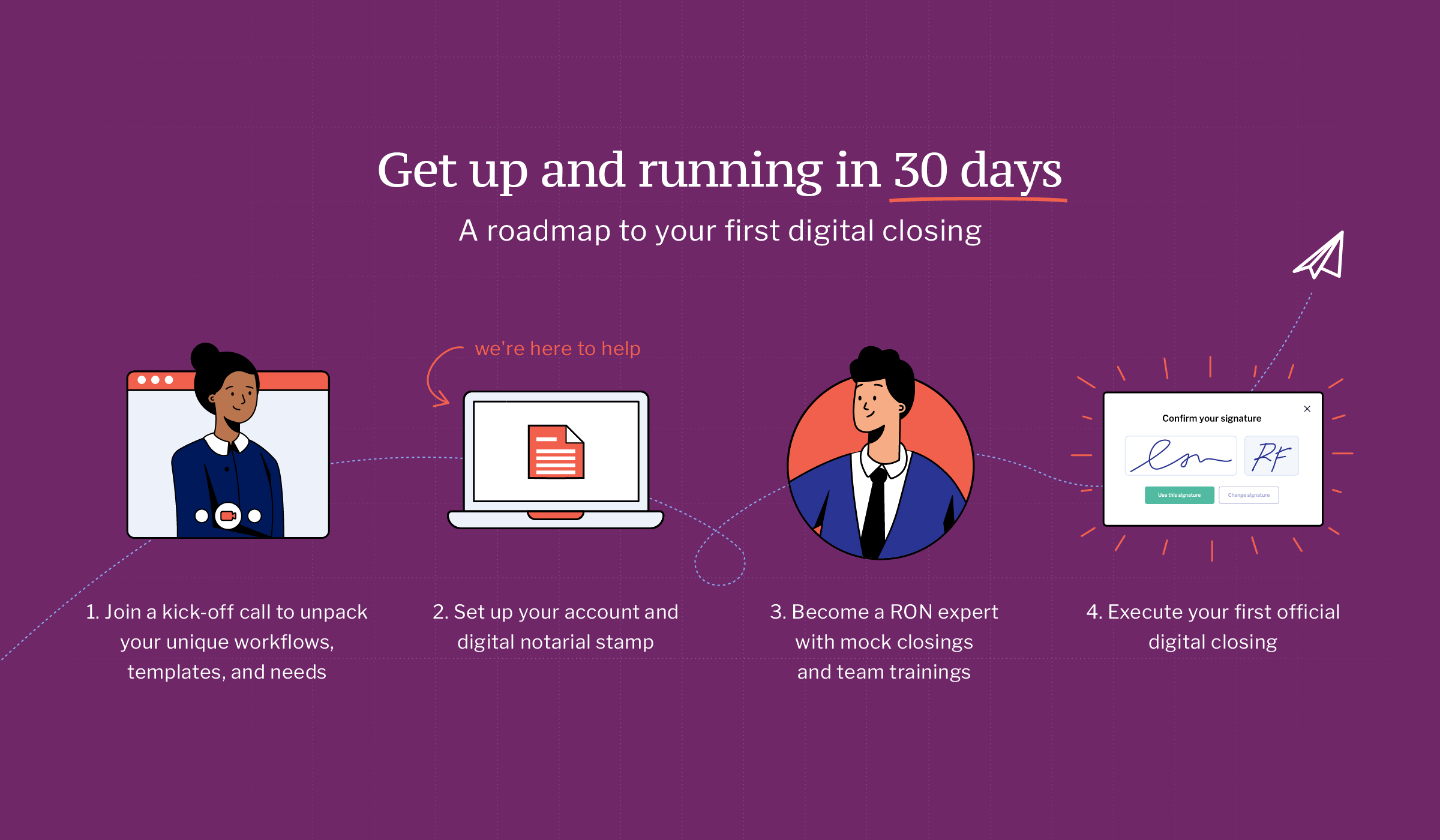 Feedback from Title and Settlement Companies
Stavvy, what can we say? User friendly, [and the] support staff is responsive and knowledgeable. Stavvy has helped us pave an incredibly smooth road to being the first to close a RON transaction in New Hampshire.
[The signing process] was done in about 15 minutes. The whole infrastructure made it very simple for us, and it ended up being a cost savings model. We found in the long term we'd save more time, we could do more closings, and we didn't have the mileage expense of sending our staff out to all these remote locations.
The mobile capabilities [Stavvy] released for eSign has allowed us to fully move away from [the competition]. It's fantastic.